Woohoo Offer – Gift Rs 500 & Earn 25 Loyalty Points
Woohoo Cashback Offer: As we know that all the people love to get gifts on any occasion from their family or friends. So, Woohoo is giving you amazing cashback offers when you gift big to your near or dear ones on the auspicious occasion of Makar Sankranti. All the viewers primarily have to download the Woohoo app as this offer is valid for the app only. If you will send the gift worth Rs 200 then you will earn 10 loyalty points that means Rs 10 as 1 loyalty point is equal to 1 rupee through the app. Moreover, if you send the gift costs Rs 500 then you will earn Rs 25 through the app. This offer is valid for limited period of time only and you can make only one transaction after applying the code. The loyalty points will be credited in the wallet and are valid for 30 days only.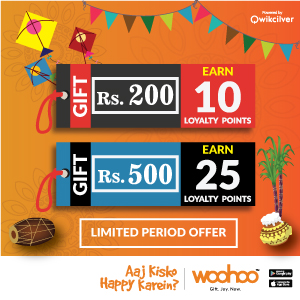 Woohoo is the awesome app you can send a trendy digital gift card to your loved ones. Moreover, through Woohoo gift cards you can buy a product from 100s of branded stores just apply the code there and avail the offers. You can also send a gift card to your loved ones through WhatsApp, email, and SMS. So without any delays just download the Woohoo app and avail the offer as it is the limited time offer.
Gift Rs 500 & Earn 25 Loyalty Points on App, Send Gifts via Woohoo App and Earn
To redeem the voucher just follow the given steps –
Download the Woohoo App from Google Play Store
Login from your User ID
Click on, Send a Gift Now option
Select desired denomination but not below Rs 200.
Enter your name as well as receiver's name.
Click on, Send Gift
Make the payment only via debit card, credit card, Net banking, Bank Points, Payumoney or Payback points.
Send the gift to your loved ones through Whatsapp, Email or SMS.
Your friend will get the link on its phone only then he will be able to claim the gift.
All the users can send a gift to their friends or family members and make them feel happy. Those who want to avail the deal just click on the link given on our web page. We will also update more Woohoo Cashback Offers very soon