How to apply for Reliance Jio Broadband : Get 600 GB Data per month @ Rs 500 with Reliance Jio Broadband Connection
The Reliance has brought the most amazing mobile network which offers a lot without paying anything. The company launched JIO Sim a few months back and it was an instant hit. As no one has ever thought of free internet and voice calls before the introduction of this connection. The Sim offers maximum benefits than any other cellular network presently active in India. Users are enjoying unlimited voice calls without any tariff charge and 4G internet. Initially, the Sim was launched with Welcome Offer, under which free call and data facility were provided to the users until 31 December 2016. But as a new year gift, the offer was extended till 31 March 2017 as Jio Happy New Offer was launched. With this free services the internet is now accessible to many areas of India where no broadband or internet facility was available. Now considering the growing demand for fast data speeds and more connectivity, Reliance is launching its own Jio Fiber Broadband Plans. Now the users of many cities in India are able to apply for Jio Broadband Service free of cost. At the starting, the free Fiber internet service will be launched on the test basis in New Delhi and Mumbai. After that, it will be expanded to all the major Indian cities – Ahmedabad, Jaipur, Bengaluru, Kolkata, Surat, Pune, Chennai, Hyderabad, Kanpur, Lucknow, Patna, Chandigarh, Indore, Bhopal, Thiruvananthapuram, Gurgaon etc.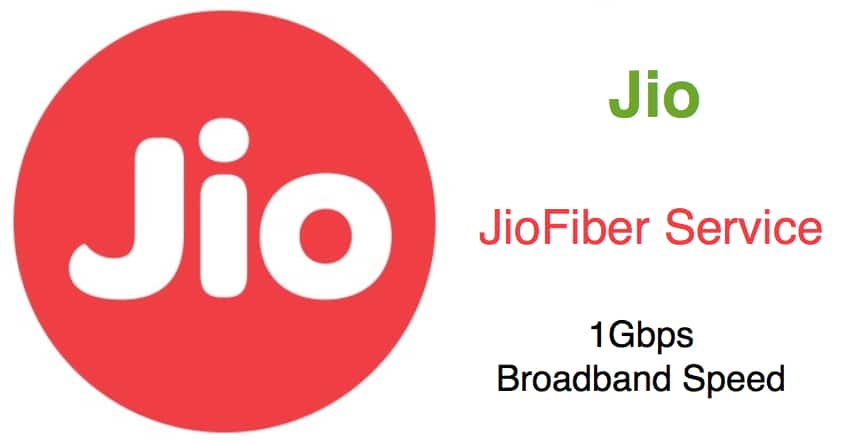 Reliance Jio Broadband Applying Procedure, Monthly Plans, Speed, Data Usage, Availability- Jio Fiber Offer
Reliance Jio Fiber Broadband Plans
Similar to Reliance Sim the company has kept the rate of monthly Jio Broadband Plans to the minimum. The available plans offer the best internet speed at a minimal price. The monthly plans have been divided into three categories according to
Plans Based on Data Speed
Broadband Plans Based on Total Allocated Data
Special Plans
You can get 600GB of Data at a speed of 15Mbps at Rs 500 Per month. There are different tariff plans available up to Rs 5500 per month offering a high-speed connection with high data usage per month.
Apply for Jio Broadband Online
Earlier this service was scheduled to be launched on 1 January 2017 but as the Jio happy New Offer was extended up to 31 March 2017 the company will now launch the Jio Fiber Net service after 31 March 2017 countrywide. Moreover, All the users will get this facility free of charge for first three months. The link to apply online for Jio Broadband will be updated here as soon as it is made available by the company.
Reliance Jio Broadband Plans
Updating Soon