Buy Everything Imported TM Multipurpose Foldable Wooden Table @ Rs 1099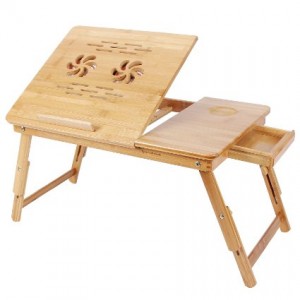 The great product for homes is the Multipurpose Foldable Wooden Laptop Table, which can be used for many purposes like for bed tray, studying, reading, eating, computer work, etc. most of the people have a habit of doing their office work on bed so for those here is foldable laptop table on which you can easily place the laptop and adjust the table up and down. For students also it is an essential product as you can keep it on your bed and study for long hours, there is no need to sit on table and chair and then do the study or reading work, as this table will be providing you with a comfortable resting mode while you are engaged in your work.
Everything Imported TM Best Multipurpose Laptop Table Durable Strong Solid Bamboo Wood Study Table on Amazon
The Multipurpose Foldable Wooden Laptop or Study Table takes less space and you can use it as a table tray for bed also. This product is very easy to use and convenient to perform numerous tasks such as laptop table, share a drink, snacks or any eatables while going on a trip, reading magazines, doing homework and so on. You can fold it easily and take it along with you anywhere you want and if not in use you can keep it anywhere very easily. The Wooden Laptop Table is really an impression and unique table furniture having the unique design and looks really awesome.
The Multipurpose Foldable Wooden Table is really an amazing product to buy. Those whoever want to buy this product do buy it from Amazon as the offer price of this product is Rs 1099 only. Moreover, on this product you have to pay Rs 60 delivery charges as imported from outside that's why there is no free delivery on this product.
out of stock
as of 15th March 2020 5:49 am