Download BHIM App for Windows, Android, and IOS 
Downloading BHIM (Bharat Interface for Money) is very simple visit the link provided below to download the BHIM Mobile APP.
Click here to download BHIM Android
How to Send Money in BHIM App
Transferring money to BHIM App is very simple. The App uses your Aadhar card detail to make the Payment to anyone.  Just use the finger printer sensor.
Bharat Interface for Money – BHIM Download Link. How to send Money and Receive Money using the BHIM APP
After the government decision to demonetize the currency notes of Rs 500 and 1000 on 8th December 2016 there has been a mixed reaction among the different sections of the society. Some are opposing it while others are in favor of demonetization. But the matter of concern here is that almost every one of us is facing some hurdles in our day to day tasks. As there is a shortage of new 500 and 2000 bank notes the cashless transaction is on the boom. Many e-wallets and mobile apps are being used for buying the essential items and important business transactions. Every bank has its own banking app for online transaction and other mobile banking services. Also, the e-wallet apps make the cashless deals possible but not without hassle. It has its own limitations as first you have to load the money from your bank account to the wallet and then transfer it to another user of the same app. This lengthy and complex process makes cash free deals not everyone's cup of tea. To save the common people from this complex task, the government of India has launched its official mobile app for easy payments. Bharat Interface for Money is the new service provided to every person in India who possesses a bank account in any of Bank of India. BHIM ensures a reliable and secure electronic payment system. Unlike the presently available e-wallets and online payment system, this app is easy ensures complete security and user confidentiality for any transaction made.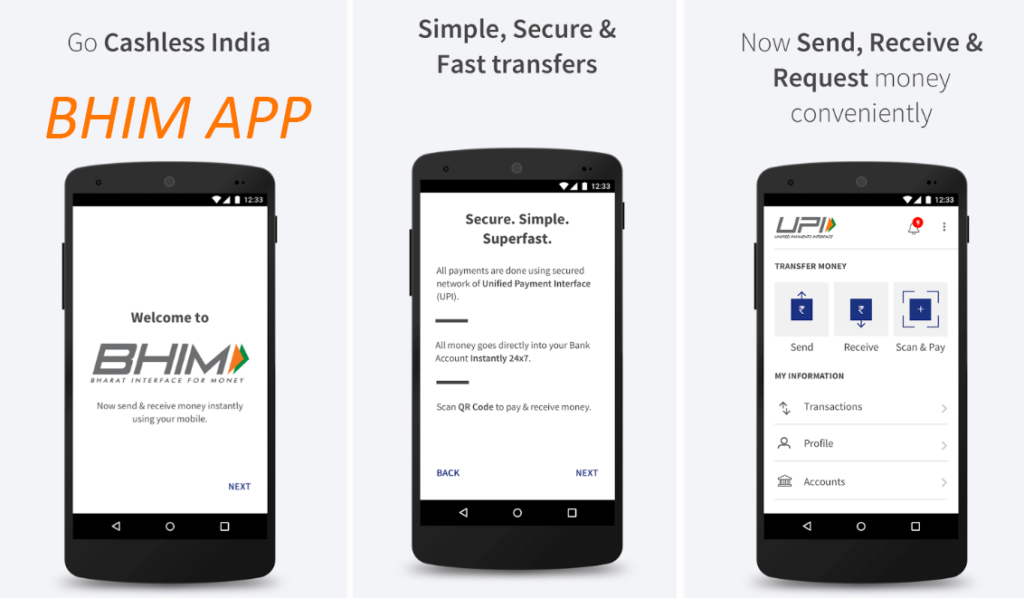 About the BHIM App
Using this app you can transfer money to anyone directly from your bank account. It is a fast and secure method of the bank to bank cash transfer. You don't have to stand in a long queue in front of the cash counter to complete the payment. Every user of the app is given a unique permanent address which represents the user and his bank account. This permanent address is all you need for making the cashless transaction. You can also receive money in your bank account using it.
To get yourself registered for this mobile service you need to have a bank account in any of the Indian bank branch and a mobile number which is registered with the same account.
How to register for BHIM Mobile APP
Download the Official BHIM App from Google Play store (Make sure you download the original app as there are many other apps available with the similar name). Launch the application and you will see the passcode page. You need to enter any password of your choice which will be used as an access code for the app. Your permanent address on the app will be automatically created which will be "Your Registered Mobile Number@UPI". Here UPI stands for Unified Payment Interface which is an online bank network enabling the customer to send and receive money from the mobile phone. Every time you need to send money or request from a friend or family member you will need this address.
After creation of this BHIM user address, you need to link your bank account with it. Currently, more than 30 banks are supporting this service. To link the bank account with BHIM cashless transaction app, select the bank you desire to add and enter the last four digits of the account number and the IFSC code.
Creating the PIN for BHIM App
The user will need the UPI PIN to check his/her account balance and online transfer of funds. To set the mPIN go to Menu-> Bank Accounts-> Set UPI PIN. Enter the last six digits of your ATM Card and expiry date of the card. Remember that the mPIN is different from the bank's mobile banking app mPIN.
How to Send/Receive Money using BHIM App
Using this Bhim app is simple. To receive money from someone just to tell the payee your permanent address. The Same need to be done while sending money to someone using BHIM.
You can download BHIM mobile app from the link given and make your cashless transaction easier and hassle free. As the transaction is made directly from bank to bank so there is no need to perform long steps as in other eWallets. If you have any query kindly ask in the comment section below.
BHIM APP Wallet offer
Currently, there is no valid offer available for BHIM adding Money offer or Wallet Offer.
Supporting BHIM App Banks List
State Bank of India
Andhra Bank
Union Bank of India
DCB Bank
United Bank of India
Federal Bank
Karnataka Bank
Bank of Baroda
Indian Overseas Bank
Canara Bank
Catholic Syrian Bank
Kotak Mahindra Bank
Vijaya Bank
ICICI Bank
Karur Vysya Bank
Allahabad Bank
Axis Bank
Dena Bank
IDFC Bank
Central Bank of India
Bank of Maharashtra
HDFC Bank
IDBI Bank
Indian Bank
IndusInd Bank
Standard Chartered Bank
Syndicate Bank
Oriental Bank of Commerce
Punjab National Bank
RBL Bank
South Indian Bank
In coming days, we will update you more about the download procedure of BHIM App for IOS & Windows and also publish the complete method to use the BHIM App for sending Money & receive Money.