Zoook Rocker 3 Wireless Bluetooth Portable BT Speaker with Dynamic LED Lights and HD sound
Wireless music gadgets have enabled us to keep the boredom away. We can connect Bluetooth headphones or speakers to our smartphones and start streaming songs to it. Unlike the wired headsets and speakers, there are no limitations on these gadgets. With the long range, it can be put anywhere as per the convenience. There are many types of Bluetooth speakers available in the market. But choosing the best among them is a crucial task. Many brands are offering these items at an affordable price but when it comes to all-around performance most of them fail. One of the prominent online shopping websites in India- Amazon and Flipkart brings you the best electronics products offers. You can buy Zoook Rocker 3 Bluetooth Speaker at an amazing price of Rs 3799.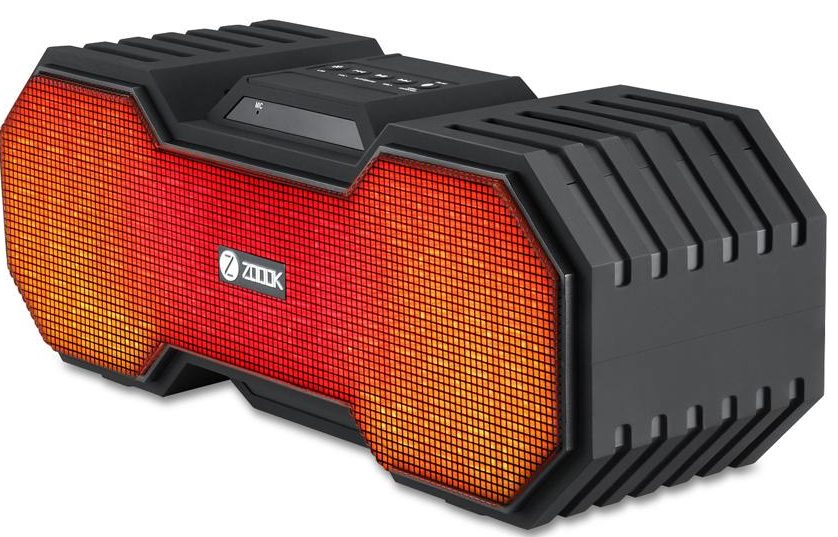 Zoook Rocker 3 Bluetooth Speaker – Price, Specs, Review
The Zoook Rocker 3 bears the top class features with an amazing design and build quality. Its portable built will amaze you. The speaker is approximately 30-cm long and 11-cm wide and weighs around 1.3 KG. With such compatibility, it can easily be carried in a backpack. Coming to the sound quality, the Bluetooth Speaker offers a rich and crystal clear sound. Also, the powerful and deep bass will give you the best song experience. The large frequency range ensures that no detail is missed while listening to your favourite song. It contains two large drivers with 8W output each. The built-in Bass Diaphragm produce a rich high-level sound.
One of the most important features of this product is the dynamic LED lights which change patterns with the sound. There are total eight LED patterns. For optimum connectivity, the Bluetooth 4.1 and Aux-in input options are present. It carries a large 5200mAh battery which can easily play music for up to 6 hours on full charge.
Buy Zoook Rocker 3 Bluetooth Speaker Amazon now and enjoy its cool features, loud sound and funky look. Also, check our other articles to get latest  Promo Code and offers.
Rs. 3,999
out of stock
as of 4th March 2020 8:52 pm