Save Rs 1766 on Buying Orient Geyser from Amazon.in
Rs. 4,700

Rs. 5,995

in stock

15 new from Rs. 4,700

as of 11th December 2019 2:31 am
Rs. 6,220

Rs. 7,600

in stock

5 new from Rs. 6,025

as of 11th December 2019 2:31 am

Last updated on 18th November 2023 8:14 pm
Nowadays, no home has been left without having any electronic appliance. Our life is completely being dependent on electronic products. The reason is not unknown to anyone, these products are making our life compatible to the adverse weather condition. Due to the frequent changes in the weather conditions, you require electronic appliances to adapt to the situation. In today's era electricity has molded every adverse situation according to our comfort and convenience.
Buy Orient Water Heater at Rs 5633 from Amazon India Availing 24% Discount, 10L Capacity and 2000Watt Orient Geyser @Amazon.in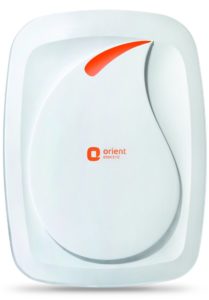 The Orient Electric Water Heater comes with safety features including Multi-Function Valve, Pressure Release Valve to release extra pressure from the inlet and Vacuum Release Valve guards against the dry running of the geyser. It is a durable Plastic Storage Water Heater having thicker and heavier copper element. The Magnesium rod increases the tank life of the water heater by decreasing the scaling.
Model Number – WF1001P
The Orient Electric Water Heater has TIG Overlap Welding that enhances pressure bearing capacity and strength of the water tank. It can be installed either vertically or horizontally. No coupon code is required to enter at the time of payment to get the discount on buying the water heater. You will get two years of warranty on product and five years of warranty on the tank for buying the Orient Water Heater. It requires an operating voltage of 230 power of 2000 watts only and thus it is an energy efficient water heater. The Orient geyser weighs 7kg and it can contain 10 Litres of water.