Amazon Exclusive Offer – Buy online Amkette Evo Gamepad Pro 2 @ Rs 2299
Are you a game lover? Then you are in right place as Amazon is giving a great deal on gamepad so those who love to play games on their smartphones can buy this product and easily play any kind of game by simply connecting it via Bluetooth. The Amkette Evo Gamepad Pro 2 is made using advanced technologies and can perform so many functions. After the grand success of Evo Game Pad Pro the company again launches the Evo Gamepad Pro 2 for all their users having the latest technology.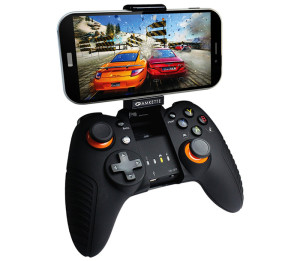 Amazon Exclusive Offer on Amkette Evo Gamepad Pro 2, Buy Evo Gamepad Pro 2 at a discount of 21% on Amazon India  
Evo Gamepad Pro 2 has so many inabilities which render you the amazing experience of Android gaming just connect your smartphone or Tablet via Bluetooth and download all your favourite games and start playing. The Gamepad allows you to play more than 400 games which are available on Evo Gamepad App just download the games and play easily with this controller. The device has soft rubberized hand grip, smooth and sturdier clamp with improved locking mechanism can hold your phone having screen size up to 6 inches very easily. The best part of this product is that you can easily carry it anywhere in your bag and can play online games anytime and anywhere you feel like. Moreover, you can also connect your phone through HDMI Cable to Television and enjoy gaming on TV as well. This single product has so many features so to know more just visit the offer page on Amazon India.
The Evo Gamepad Pro 2 is exclusively available on Amazon.in at a discount of 21% so the offer price of the product is Rs 2299.
Rs. 2,899
out of stock
as of 15th March 2020 5:49 am