Get 17% Discount on 5 Star BEE Rating Split AC
Rs. 55,601
Rs. 73,601
in stock
as of 13th March 2020 11:13 pm
Rs. 52,490
Rs. 82,490
in stock
2 new from Rs. 52,490
as of 13th March 2020 11:13 pm
Last updated on 19th November 2023 4:43 pm
A 1.5 ton split AC in Mitsubishi brand is now available on Amazon with the discount offer. Mitsubishi is known for its technical advancement in the home appliances. You get the desirable temperature in your living area in reliable cost through this split AC.
The split AC has 1.5-ton rotary compressor which utilises less energy and creates less noise. The electrostatic anti-allergy enzyme filter present in the split AC kills allergens and the Platinum Ceramic made nano platinum filter capture bacteria and deodorises the indoor air. You can control Mitsubishi AC through a wireless LCD remote. This LCD remote is convenient to use at night having night glow buttons.
Model Number- MS-GK18VA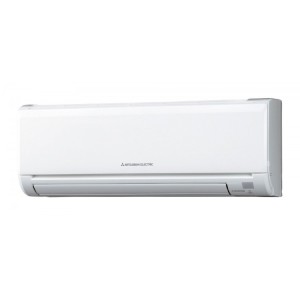 Buy online Mitsubishi Split AC on Amazon India with 17 % Discount Offer
The rotary compressor provides uniform and powerful cooling sensation. The sleep mode of the AC increases the temperature gently so that you do not feel uncomfortable. The split AC produces only 53 DB noise to give you the cooling environment in a peaceful manner. There are some extra features of the split AC including auto restart, self-diagnosis function, auto vertical/ horizontal vane etc. The Mitsubishi AC is very energy efficient and has got 5 Star BEE Rating for its energy efficiency.
The high performance of the AC is due to the grooved piping that increases the heat exchange area. You get installation and free delivery facility for this product through Amazon. This split AC is available through Amazon at EMI too. The look and quality of the Mitsubishi Split AC in white color remains constant for a long duration.