Livpure Fresh O2 130 Portable Table Top Air Purifier on Flipkart.com
An air purifier is a necessary appliance required in home, offices or public places. Flipkart has reduced the price of Livpure Portable Table Top Air Purifier to Rs 7199. You get 7.5% Off on HDFC Bank Debit and Credit Cards. You can breathe fresh air after buying this table top air purifier. The Livpure air purifier has four layers of air purification techniques. It has pre-filter, cold catalyst filter, HEPA filter and activated carbon filter layers to filter the air. The Fresh O2 130 Table Top air purifier eliminates smoke, dust, formaldehyde and other air pollutants from the air. It provides you odorless and purified air to inhale. You can breathe fresh air by the use of air purifier.
Brand Name– Livpure
Model Name- FreshO2 130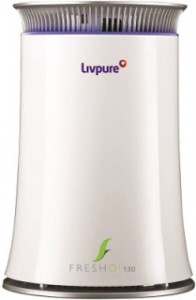 Livpure Air Purifier at Rs 7199 on Flipkart.com with Extra 7.5% Off on HDFC Bank Debit and Credit Cards
The Livpure Air Purifier has been designed with an anion generator. This anion generator ensures that your home is filled with fresh oxygen supply. You will remain far away from respiratory diseases caused due to the polluted air. There is red, green and blue 3-grade air quality display in the air purifier which gives you the warning for the status of the atmosphere. The three speeds setting available in the air purifier makes it possible to remove pollutants in no time. You can clean your surrounding for dust and pollutants effectively this purifier. It satisfies your requirements for air purification by removing smoke, dust, pollen grains and Formaldehyde thus giving you clean and odor-free air around you.