Flat 65% Off on Kenstar Oxy Fryer @Flipkart.com
You can buy Kenstar Oxy Fryer from Flipkart at a great discount of 65%. It is a 3L Fryer in Cherry Red color. You get free delivery, free transit insurance and one year warranty on Kenstar Oxy Fryer. The Airfryer has hidden handle and you can set its timer up to 30min for frying the food. Having the capacity of 3L, you can prepare up to 1.2kg Potato Slice in one go. It is a nice product from Kenstar that makes cooking fun.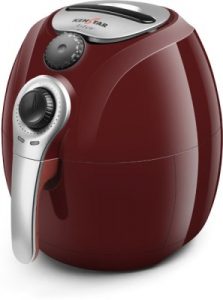 Buy Kenstar Oxy Fryer at Rs 6659 from Flipkart.com Availing 65% Discount
The Kenstar Oxy Fryer produces healthy diet by frying food that does not contain extra oil to make the best recipe of your choice. It has a compact design to make cooking a hassle-free experience. With the auto power cut feature, the power supply will be cut off when your set time gets completed. Thus, it saves your energy consumed for the purpose of frying. Different food item requires different temperature for cooking purpose. You can set the temperature of the Low Fat Fryer from 80 degrees to 200 degrees to fry food item at the required temperature. With the hidden handle, you can push the handle inside to give it a sleek and compact look and easy to use functionality.
Flipkart Kenstar Oxy Fryer Price -6659
The LED indicators have been used in the manufacturing of the fryer to indicate whether the power is on or off. The Kenstar Oxy Fryer has air outlet vent to emit air at regular interval of time and removes odour and bring freshness in your kitchen. You can buy this best air fryer at a heavy discount of 65% without applying any promo code.