Buy Eureka Forbes Easy Clean Plus 800-Watt Vacuum Cleaner on Amazon
A Vacuum cleaner is a device that is used to suck up dust and dirt from surfaces like floors and car. It consists of the air pump to create a partial vacuum which is used to suck up dust and dirt. The dust is collected by either a dust bag or cyclone for later disposal. It is a portable Vacuum cleaner that offers 800 watts of a blower and suction power.
Product: Vacuum Cleaner
Brand: Eureka
Coupon Code: Not Required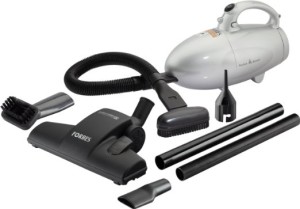 Buy Eureka Forbes Easy Clean Plus Vacuum Cleaner on Amazon/Flipkart
This product has special features of suction and blower functions. A lightweight handheld vacuum cleaner is ideal for daily cleaning and cleaner has special 18 feet long cord for easy reach around the house. It has a blower accessory for multi-purpose use and has a dust cup for easy disposal of garbage. You can buy this product as it will make your cleaning process easy. The sleek design has been made to clean and handle the surface easily. The Vacuum cleaner is light weight weighing only 1.8 kg. It makes the cleaning process an easy affair. The handy shoulder strap provided by Eureka Forbes reduces the hassle of carrying it and you don't need to drag it behind you.
You can depend upon this to do a superb cleaning job for your home. It can be used as a blower to blow dust and dirt from shelves, book cases etc. along with suction of dust. The opening of suction is present on the front of the Eureka Forbes 800 watt vacuum cleaner while that of blower is present at the back.
It contains a bag-less design where the dust is collected in a permanent dust bowl instead of using a bag. You do not have to purchase a new bag for collecting dirt. It has multiple attachments like flexible hose, multi-purpose brush, floor and carpet brush, blower adaptor and more. It is used to clean each and every corner of the home.
You will have a warranty of one year on this Vacuum cleaner. You will require an operating voltage of 230 volts to operate this Vacuum cleaner. It requires a power of 800 watts. The item is shipped in original manufacturer's packing. The shipping label is attached to the outside of the package. To know more about the offers you can click on the links given below on our page.
Rs. 2,999
in stock
6 new from Rs. 2,750
as of 23rd January 2019 6:57 pm