Buy Amazon Zenfone Selfie Smartphone having 13MP Dual Camera
Rs. 13,999
out of stock
as of 15th March 2020 5:49 am
Last updated on 18th March 2023 7:15 am
Asus Zenfone Selfie is exclusively available on Amazon India to be purchased by the users. It is featured by 13MP primary camera and 13MP secondary camera with f/2.0-aperture and auto-laser focus lens with dual color real tone flash light to capture real tone of the object. The 5.5-inch Smartphone has IPS Corning Gorilla 4 Glass and anti-fingerprint technology. It has finger-capacitive touchscreen having 1920 x 1080 pixels resolution to show clear images.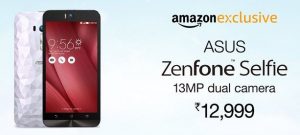 Asus Zenfone Selfie Smartphone at Rs 12999 @ Amazon.in – Best Smartphone Ever Made for Photography
The phone functions by Android version 5 Lollipop operating system with 1.5 GHz Qualcomm Snapdragon octa-core processor. It constitutes dual micro SIM, 3000 mAH lithium-polymer battery to give long working life to the phone after full charge, 3 GB RAM, 16 GB internal memory expandable up to 128GB. There is one year of warranty on Phone and six months of warranty on accessories including battery from the manufacturer.
The Asus Zenfone Selfie Smartphone captures images that are fusion of technology, fashion and craftsmanship. You can select beautification mode to balance your facial features in the Zenfone Selfie Phone. The blend of white and yellow light produces flash light to capture real tone of your complexion. It comprises of super HDR backlight technology to balance light even in the dim light. With the pixel enhancing technology, you get brightness even in dark and shaded areas. It gives best performance even in the low light.
The phone has perfect balance between multimedia operation and the battery use. The Gorilla Glass 4 makes it strong and durable Smartphone. The front and rear cameras are engineered with five-prism largan lenses and top-quality Toshiba sensors. It constitutes dual-LED real tone flash technology for perfect illumination in every lighting conditions whether dim or bright light for capturing images. The Asus Zenfone Selfie has Ergonomic Arc Design with Intuitive Rear Selfie button to easily click selfies and adjust volume with the comfort of finger-grip of the button. The phone provides Light-Speed Photography with laser auto-focus to accelerates close-ups photography and thus compensate for the extra distance between the lens and the object.