Asus ROG GX700 Liquid Cooled Gaming Laptop on Amazon/ Flipkart
Rs. 257,000
Rs. 260,000
in stock
as of 11th February 2020 9:01 am
Last updated on 3rd October 2023 10:09 pm
Asus has launched a new gaming Laptop called Asus ROG GX700. It is a liquid cooled Laptop priced Rs 178290. The ROG GX700 premium gaming Laptop consists of detachable ROG exclusive Hydro Overclocking system. Its cooling module has dual 92mm radiators that are capable of dissipating more than 500W heat. It is bundled with ROG themed suitcase to cover it from every side.
Buy Asus ROG GX700 Laptop Online at Rs 178290 @www.asus.com – Asus ROG GX700 Liquid Cooled Gaming Laptop on Amazon/ Flipkart/ Snapdeal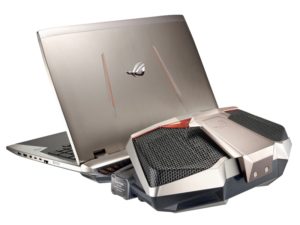 ROG GX700 also provides a traditional cooling system to cool the system without overclocking module of the system. It is powered by a sixth generation Intel Skylake Core i7-6820HK processor. It is clocked at 2.7 GHz. It consists of 16GB DDRA RAM which can be expanded up to 64GB. With the Nvidia GeForce GTX 980 GPU with 8GB of GDDR5 VRAM, the Laptop displays appreciable graphics.
Hydro Overclocking System of the ROG GX700 provides unmatched cooling to the system and better overclocking. It can overclock the CPU up to 48 percent and DDR4 memory up to 43 percent. The ROG GX700 Gaming Laptop has launched with the size of a 17.3-inch monitor with the resolution of 3840×2160 pixels. The Asus Laptop is available on the official site www.asus.com of Asus only. It will be available on Amazon/ Flipkart/ Snapdeal in the coming days.
Asus ROG GX700 Laptop Amazon – Coming Soon
Asus ROG GX700 Laptop Snapdeal – Coming Soon
Asus ROG GX700 Laptop Liquid cooled Laptop Specifications – click here