Buy Intex 10000 mAh Power Bank at just Rs 899 exclusive at Amazon
Powerbanks, this gadget become so popular these days as it is used to charge mobiles and laptops. It is a portable device so you can feasibly carry it to any place you want and to charge your mobile or laptop simply connects the power bank via USB Cable and charge the device. Today, there a so many power banks available in the market having different sizes which you can carry in your pocket, wallet or bag. All the buyers must keep in mind some points before buying a portable charger like always check the mAh capacity of your smartphone and then buy the charger accordingly. Like if you have the smartphone powered by 2500 mAh battery then you must buy highest mAh capacity power bank so that you can charge your smartphone at least twice or thrice.
Exclusive Deal Intex Power Bank Amazon, FLAT 59% OFF on Intex IT-PB10KW Power Bank on Amazon.in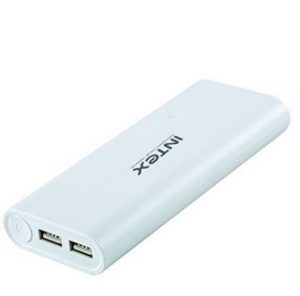 Furthermore, the powerbanks having more mAh capacity are the best for use as you can carry it on long journeys to charge your mobile or tablets. So for all those who wish to buy the best charger for themselves than here is Intex 10000 mAh Power Bank which has 2 USB ports so that you can charge 2 devices together. The best part of this charger is that you can charge not only your mobile or tablet but also your MP3 Player, MP4 Player or any digital camera. This Power bank has 10000 mAh Battery so you can charge a single smartphone at least 3 times in a day.
The Intex IT-PB10KW Power Bank is exclusively accessible on Amazon India at very reasonable cost. The actual price of this product outside is Rs 2200 but here you will get 59% discount, so the offer price of the product on Amazon.in is Rs 899 only. In the box, you will get the power bank, USB Cable and 6 months warranty card. This offer is live for the short span of time only so grab it now. Soon it will be available on Amazon as currently, it is out of stock.