Xiaomi Diwali Sale 2016- Flash sale between 17 Oct to 19 Oct 2016 
This Festival Season the online market is flooded with offers and deals and Xiaomi is not missing the chance to welcome the most celebrated festival in India- Diwali. Xiaomi is all set for its upcoming sale with its Diwali with Mi sale. There are lots of products by Xiaomi in this Mi sale, such as mobile phones, tablets, smart watches, air purifiers, power banks etc.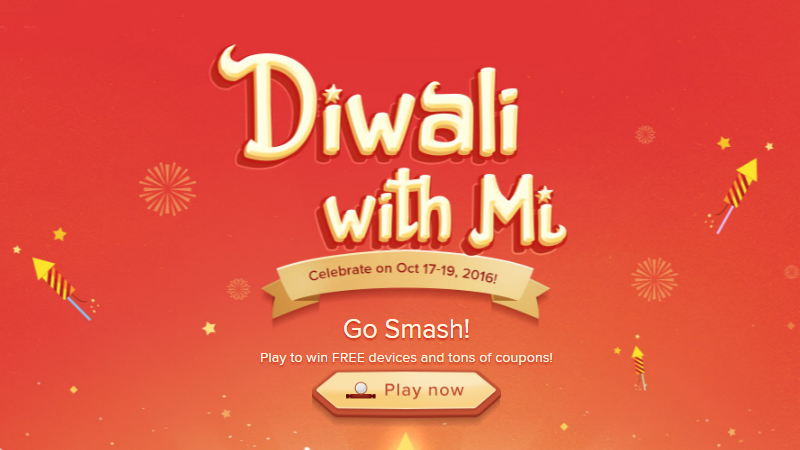 Xiaomi Diwali Sale: Re 1 Flash Sale, Diwali With Mi Sale October 17 to 19.
The Redmi series by Xiaomi and MI5 flagship Smartphone which was a huge success in India will be available at lowest price in Diwali with Mi 2016 offer. Another exclusive deal in this sale is up to 25% off on Mi earphones and Bluetooth speakers. The Diwali with MI sale will commence on 17 October 2016 and will end on 19 October 2016.
Xiaomi is the Chinese manufacturing company which has established itself as a trusted mobile company. It is the most leading brand in the budget Smartphone category. It started in India with its powerful yet affordable handset launch in India i.e. Xiaomi Mi 4i, which made a significant impact on Smartphone market in India as thereafter more brands jumped into the mid-range phone market with pretty decent specs. It has changed the way Chinese products were looked in India, from low quality and unreliable to a popular mobile brand.
Check Detailed Information About The Sale HERE
Xiaomi Re 1 Flash Sale
The main highlight of Diwali with Mi offer will be Re 1 Flash Sale; in this amazing offer, you have the chance to grab your favorite Xiaomi device by paying just Rs 1. Two products will be sold through flash sale each day between 17 October and 19 October. The Items sold in Flash sale is as below
October 17 Deal – Redmi 3S PrimeMi and Bluetooth Speaker
October 18 Deal – Redmi Note 3 16GB and 20000mAh Mi Power Bank
October 19 Deal – Mi 4 Smartphone and Mi Band 2
To register yourself for the Redmi Flash Sale you just need to follow these steps
Sign in to your account Mi account or login with your facebook account- Click Here to Register

After registering yourself on Xiaomi website share about Re 1 Sale on your social media page
The thing to note here is that the products to be sold through Mi flash sale would be limited in number and not everyone would get a chance to grab the deal.
Xiaomi Diwali Coupons
Prior to the start of Diwali with MI sale 2016, Xiaomi is giving away free coupons worth Rs 100, 200 and 500 till 16th October. These Xiaomi Coupons can be redeemed while buying the Xiaomi products.
How to grab these coupons?
Visit Xiaomi Diwali Sale 2016 page HERE

At the bottom of the page, you will see all the Xiaomi coupons available currently

Login or signup on website in order to grab the Xiaomi Coupons.