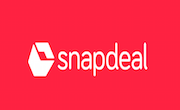 Coupon Details
Snapdeal Android App – Recharge at Freecharge and Get A Chance To Win Contest 2017
Hello Users, Snapdeal is giving great offer to all the Snapdeal Android App Users as it is a Recharge To Win Contest. All you have to do is just log into the Snapdeal App from your user id and do recharge or pay bill minimum of Rs 20 and win iPhone every day. This is the best offer Snapdeal is offering to both the new or existing users. So, without any delays just do the recharge from freecharge on Snapdeal and participate in the contest as it is the limited time period offer. Users can do numbers of recharge per day but for this contest only the first recharge will be counted. This contest ends on January 17th 2016, so do the recharge now and initiate a step towards the deal.

Remember, only Indian Nationals excluding Tamil Nadu State can participate in this contest and must have 18 years of age too. Those whoever wants to participate in this contest must assure that they are submitting valid details and accepts all the Terms and Conditions. Moreover, those who win the contest have to submit the signed copy of Terms and Conditions then only he or she will be able to claim the Contest Prize.
Snapdeal Android App Contest, Recharge at Freecharge and Get A Chance To Win iPhone Everyday, Snapdeal Recharge To Win Contest
Those users want to participate in this contest can click on the link given below –
To join Recharge To Win Contest on Snapdeal, just follow some simple steps –
First of all, users must have valid User ID and password.
Recharge or bill payment must be of Rs 20 or above.
Make payment via debit or credit card.
Every user doing a recharge is eligible to take participation on this contest.
You can do number of recharges but only one is valid for the contest.
The recharges or bill payment done through Snapdeal Android App only are valid for this offer.
Only 1 lucky winner will get the chance to win an iPhone.
Last day to participate in the contest is 17th January 2016 till midnight.
All the Snapdeal App users just participate in this contest and increase your chance to win iPhone everyday. Those who don't have the App just download it and join the contest as offer is there for limited time period only.