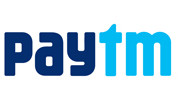 Click to copy & open site
Coupon Details
Order your food online while travelling in train from TravelKhana after applying the coupon code.
If your half of the life goes in travelling in trains or you have planned for a Long trip with your family via trains but you are not sure about what kind of food you will get while travelling? Trust me; you don't have to worry about it now as TravelKhana is an award winning company which will serve you multicuisine mouth watering food. Whether your journey is a long one or short, for the company it's the same. You do not have to worry about the quality of food you will get. The delicious food has been appreciable by both kids and adults alike.
With Paytm and TravelKhana offers, they make food delivery really convenient for you and they made it on the mark with the help of food partners present in various cities around India. You can enjoy more with Paytm Offers on TravelKhana with the availability of online food menu, cuisines from different cities and with being a travel enthusiast, become a food connoisseur too. People who are very foodie and travel enthusiast are pretty seems to be interested in the enjoyment of food. Nowadays for youth, the other terminologies used for foodies are food geek, gourmet.
The three things that matters most to the TravelKhana is
Availability of food at your preferred station on time
Hygiene and
Flavour
Order Food Online with exciting TravelKhana Offers from Paytm.com
Use Promo code: – TPAYTM
Online Food order and delivery with TravelKhana app you can ensure that your food will be on time. You can call us in the mid-night or at dawn, while you are in the train. If you have placed your order with TravelKhana app Offers, they will get you the food you wanted covering thousands of train routes daily in more than 500 cities. The customer count is increasing over 9 lakhs and is elevating day by day. So just call us or you can book your online food order and you can get great services with Paytm TravelKhana Offers while travelling by train.