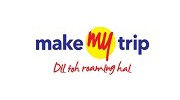 Coupon Details
MakeMyTrip Cashback Offer, Coupons September 2017- Latest SBI, Citi Bank, ICICI, HDFC, PNB, Axis Bank Offer
Currently Active MakeMyTrip Bank Offers and Discount Coupons
—————
Available for Axis Bank Card Holders, Flat 25% Off on Hotel Booking and Travel Tickets
MMT Axis Bank Hotel Booking Promo code – AXISHOT (For Domestic Hotels)
AXISIHOT (For International Hotels)
MMT Flight Booking Coupon Code – AXISDF (For Discount on Domestic Flights
AXISIF (For Discount on International Flights)
The offer is valid on domestic flight booking until 31 March 2017
—————
Punjab National Bank MakeMyTrip Discount Offers
Get 25% Off for domestic hotel booking, Maximum Cashback Rs 5000
Promo Code- PNBHOT
Get up to 800 Cashback on Domestic Flight Booking
Promo Code- PNBDF
Valid up to- 31 March 2017
—————
Get 25% Off on Hotels and Flight Ticket Booking- Kotak Mahindra Bank Offer
Maximum cashback available is Rs 5000
Hotel Booking Coupon Code- KOTHOT (up to 5000 discount on Domestic Hotel Booking)
International Hotel Promo Code- KOTIHOT (3000 Off on international hotel reservation)
Kotak Mahindra Bank Domestic Flight Booking Discount Coupon- KOTDF
International Flight Promo Code- KOTIF
Valid up to- 31 March 2017
—————
HDFC Bank Hotel Booking Coupons on MMT
Get Flat 25% off on Indian Hotel Booking, Use Promo Code- HDFCHOT
25% Instant Discount for HDFC Bank Credit/ Debit Card Holders on International Hotel Booking- HDFCIHOT
Coupons Valid up to – 31 March 2017
—————
Get Huge Discount on Domestic and International Flight Booking with MakeMyTrip, For HDFC Bank Customers
up to 800 cashback on Domestic Flight Ticket, Use Coupon Code- HDFCDF
up to 5000 instant cashback for international flight booking- HDFCIF
Validity Conditions- 31 March 2017
—————
Avail 25% Instant Discount on Hotel and Flight Booking- Make payment using SBI Debit or Credit card
MakeMy Trip Domestic Hotel Promo Code for SBI Customers- SBIHOT
International Hotel Coupon- SBIIHOT
Get 800 Cashback on Flight Booking in India- SBIDFL
up to 5000 cashback on international flights for SBI Debit / Credit card holders- SBIIF
Validity Conditions- 31 March 2017
—————
MakeMyTrip ICICI Bank Offers on Hotel and Flight Booking
Flat 5000 Discount on Domestic Hotel Booking, Use Promo Code- ICDOMHOT
20% Cashback on International Hotel Room Booking- ICINTHOT
Get Cashback of Rs 800 On Domestic Flight Booking- ICDOMFT
up to 5000 cashback on International Flight Booking- ICINTFT
Validity Conditions- 31 March 2017
—————
Latest MakeMyTrip Bank Offers, Coupons September 2017
MakeMyTrip is India's top online travel service provider. It has pioneered the online travel industry in India. It empowers its users to book tickets online on its online platform. It empowers its users with instant booking facility with comprehensive choices. It provides a range of valuable services and offers to provide customer support. You can book hotels or flights with your debit or credit card on Makemytrip to get exciting deals and offers. You will save your money on every booking you make on Makemytrip.
MakeMyTrip Bank Promotional codes
There is a big competition in online Travelling business and many top notch foreign companies are expanding their wings in the Indian market to cater the largest travelling needs. In this context many Indian Govt and Private banks tied up with these giants to give maximum financial support to their customers, they usually run various promotional method to attract more customer by giving them a discount on Credit & Debit card purchase. We have given you a full list of Indian banks offering multiple types of the offer to their customers on purchasing the Flight ticket for the Domestic and International Tour, Hotel Booking discount and many other travelling benefits.
MakeMyTrip bank offers to help you in saving your money on making the transaction with the bank debit and credit cards. You will have different deals for different banks. MakeMyTrip ties up with numerous banks to offer great discounts and cashback offers to its customers. You will get exciting deals by different banks like SBI, HDFC, Axis, ICICI, Citi bank, HSBC, Standard Chartered if you have an account in any of the banks. MakeMyTrip collaborates with these banks to make the transaction of its customers satisfactory and enjoyable. You can easily avail the MakeMyTrip bank offer by entering the coupons provided by it.
MakeMyTrip SBI Bank Offer
Making your journey happy with SBI Bank Coupons on the MakeMyTrip. Just apply the latest SBI cashback deal to save your money while booking hotels and flights on Makemytrip.com. It is India's top-flight ticket booking, bus ticket, and hotel booking platform. It provides the best rate for Indian and international travel booking. It ties with the hotels in India and across the world. You will find attractive packages for booking Flight, Train, Bus and Hotel booking. You can browse through many top-notched State bank India deals on Makemytrip.com
Enjoy ICICI Bank coupons with MakeMyTrip (Expired)
Being an ICICI Bank customer is always a great experience as this is rated among the top private bank in the country and super hot offer on travelling deals are really a guarantee on this banking portal. We have collected few best deals for ICICI Bank customer  ICICI Bank gives great discount to its customer on MakeMyTrip Domestic Flight booking. You can get Rs 800 extra cash back using your ICICI bank internet banking facility for making payment. ICICI bank is associated with MakeMyTrip to give the exclusive offer to the travellers. You will have to enter MakeMyTrip Coupon Code ICDOMFT to get up to Rs 800 cashback. This offer is valid until June 30, 2016. The cashback amount will get credited to your MakeMyTrip wallet within 14 days of the date of the transaction.
Coupon code: ICDOMFT
MakeMyTrip HDFC Bank Cashback Offers
Having a perfect credit card is not impossible in this world. You should have good credit value to grab an HDFC credit card thus complete saving on any purchase for Hotel booking, Flight booking, Bus Booking and Holiday tour on the India's best site makemytrip.com.  To get these discount and cashback offers on HDFC cards, you will have to apply coupon code given by Makemytrip. You save your money while booking tickets for flights, buses, and trains on MakeMyTrip. You can also book domestic and international hotels on MakeMyTrip to save your money on each booking you make on site or app.
We will update the latest HDFC Coupons for your travelling need.
MakeMyTrip Citi Bank Promotional Codes
 MakeMyTrip brings hot deals and offers for its users to get fully satisfied which booking hotels and tickets on it. These Citibank card holders can get exciting deals on the portal to save their money on each transaction you make on it. These offers are meant for the Citibank customers who hold a valid CITIBANK credit card & Debit card.
Enjoy the Axis Bank Offer
Getting a Makemytrip Axis bank discount offer is not too complicated. Just pick the right coupon code from our exclusive section and apply at the time of checkout to make your holiday deal cheap. You are all set to experience a great tour deal with the company but certainly, you will smile at once if you able to get the flight ticket booking cheaper using our MakeMyTrip Bank Coupon code. All Axis bank card holders can get exciting deals on the hotels, flight, train and bus ticket booking. You can book the ticket for the domestic and international hotels and flights using your Axis bank debit and credit card to get discount and cashback offer given by MakeMyTrip. It tags with the various banks to provides benefits to the customers by providing them latest travelling coupons.     
Various Cashback Offer using Debit and Credit card
Travelling planner offers huge support to their customer by giving them cheap flight ticket up to 1000 cashback on many occasion using any credit card of the SBI, UCO Bank, PNB, Federal Bank, IDBI Bank, SCB and other major banks. To get the MakeMyTrip cashback offer one has to find the best-suited deal on our portal and apply the cash back coupon before making the final payment. Moreover, a customer who does have a Net Banking account associated with mentioned bank can get discount offers on Debit card and Credit card.  You will enjoy booking tickets on MakeMyTrip to make your travel successful. You can book tickets at the most reasonable price here by availing its cashback offer using internet banking and bank debit and credit cards.
MakeMyTrip Bank offers on multiple banks
You can use your mobile or any other computing device to book tickets and hotel rooms on Makemytrip. You can pay the amount using internet banking to get exciting deals and offers on Makemytrip. MakeMyTrip always remains ready to take your feedback to that it can improve its service and make its customers happier than before.
We are looking for best deal on multiple banks offers and certainly publish few more banks deal once their portal will offer any travelling promotional coupon for MakeMyTrip customers. Federal Bank, Standard Chartered, SBBJ, UCO Bank, IDBI, PNB, Bandhan Bank, CITI bank and many other banks offer will be published soon. Meanwhile, check the Net banking offer of given banks.
MakeMyTrip ICICI net banking Offer
MakeMyTrip Axis Bank net banking Offer
MakeMyTrip Citi bank net banking Offer
Steps to avail the MakeMyTrip Bank Cashback Offer September 2017:
Visit MakeMyTrip.com site or download MakeMyTrip Mobile App.
Book your travel tickets or hotels
Login to your account on Makemytrip
Apply promotional code if any
Make payment using your atm card, credit card or internet banking