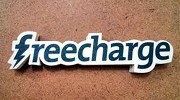 Coupon Details
Freecharge Britannia Good day Offer to get Recharge Worth Rs 10 or Rs 30 Completely Free
Britania has come up with the recharge offer where you can get Freecharge coupon of Rs 10 or Rs 30 with every pack of Britannia Biscuit. Eat healthy Britannia biscuit and get free recharge offer with every pack. Buy Britannia buiscuit worth Rs 10 and get recharge code of 12 digits. Buy biscuit of Rs 30 and get recharge of Rs 30 on your mobile number with unique coupon code.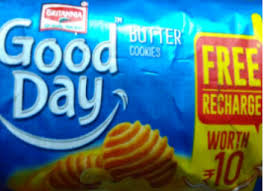 Freecharge GoodDay Offer: Recharge of Rs 10 or Rs 30 Free With Every Pack of Britannia Good Day Biscuit
How to get free recharge offer with Britannia GoodDay Biscuit Pack?
Visit nearby store and search for GoodDay Britannia butter pack with offer mentioned on it
Find the unique Freecharge coupon code inside the Britannia biscuit pack
Open Freecharge site and login or sign up
Initiate the recharge of Rs 10 or Rs 30 as per your offer
Apply promotional code which you get inside the biscuit pack
Apply the code and complete the recharge process
This is best offer to get the  Freecharge Good Day offer and click on the link below to get hold this super hot offer
Terms and Conditions of the Freecharge Good Day Offer:
A single user can avail this offer 3 times.
The offer is valid for 250 gram pack of Britannia GoodDay Butter biscuit worth Rs 30 and 75 gram Britannia GoodDay Butter and 66 gram of Britannia GoodDay Cashew worth Rs 10.
The offer is valid from December 25, 2015 to March 25, 2016.
This alluring offer from Freecharge has made it possible to get free recharge of Rs 10 and Rs 30 totally free. You can enjoy the healthy and tasty biscuit and along with that you will have a mobile recharge code inside the pack with which you can recharge your mobile. Its a gift for the Freecharge users to talk to their family and friends after having free recharge on their mobile phones.