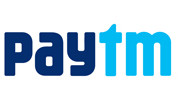 Coupon Details
The Super Mega Sale: Paytm Mega Electronics Sale starting from 21st December 2015 to 25th December 2015 : 100 Cashback
Get 15% Cashback on DSLR – Activate Deal
Rs. 10000 Cashback on Home Appliances – Activate Deal
20% Cashback on kichen Appliances- Activate Deal
30$ Cashback on Mobile Accessories – Headphone  – Activate Deal
Personal Grooming Appliances minimum 15% off – Activate Deal
Gaming Console 40% off + 18% Cashback Offer – Activate Deal
Big size Speaker 30% Off – Activate Deal
The super mega sale is here to entrain everyone and biggest occasion to get the best possible cashback on shopping at Paytm.com. The Paytm Big Sale has already started on 15th December 2015 and will be closing on 31st December 2015. In this particular Scheme Paytm will give away 100% cashback on any item purchase online. The 100% Cashback sale will start every hour with new products. So if you wish to shop big and want to save money before New Year then this is really a fantastic chance to grab item without paying a huge money
We will update you more about the Paytm Big Day sale every hour and will publish hot deals available on products. We will also publish the upcoming offers and deals of the day with Paytm Coupons to get item at lowest rate possible.
The Paytm Mega Electronics Sale – Between 21st December 2015 to 25 Dec 2015 – 100% Cashback Offers
The mega giant Paytm Electronics Sale will cover almost every types of category such as kids electronics Toys, DSLR Camera, Point & shoot Camera, Video game consoles, Gaming Controllers, bestselling Android Mobile Phones, Television, Apple MacBook's, CCTV Camera, Refrigerator, Dish TV etc.
Getting a best offer and deal on this most prestigious Indian online site is really easy, User should visit the portal and decide which product they want to buy from the site. Check the offer visiting the link and also find the best suitable offer or search for Paytm Super mega Sale offers. Also don't forget to compare the product with other shopping site as it will also give you confidence to buy it at cheaper price.
Once you complete all the mentioned process then go ahead and select the product in to cart. After adding in to cart use the Paytm Wallet to pay for the purchase and receive sometime 100% Cashback directly in to your Paytm account.
Most important tips: Search online those product which offers maximum cashback and always better to get the product offering at least 30% cashback.
The Super Mega Sale: Paytm Mega Electronics Sale : Visit the below link to buy online 100% Cashback