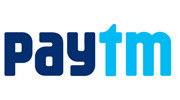 Coupon Details
Paytm JAIHIND Republic Day Offer : 2016 Cashback on the addition of 1950 in wallet
The Paytm mega online recharge store has come up with a fantastic add money offer where you will get a great chance to grab Rs 66 Cashback by deposit the amount in the wallet. The JAIHIND Republic Day Offer terms and condition has been published under; therefore read them carefully before adding money in the wallet on the paytm.com
Paytm JAIHIND Republic Day Offer : Rs. 2016 Cashback by deposit Rs 1950 in the paytm wallet
The offer date and recharge eligibility of Paytm JAIHIND Republic Day Offer
This offer is valid if you add the money in wallet
After adding the money, you will get Rs 66 cashback in your paytm wallet
Add  money by using your credit debit card
The said coupon code can be used one time only.
Paytm wallet – Cashback will be transfer to your Paytm wallet within 24 hours.
The said offer will expire on 26th January 2016.
To get this offer just add money in your paytm wallet.
Paytm Republic Day Offer Coupon Code: JAIHIND
Just add money in your wallet and get the cashback by applying the promocode given above. For eg – If you will add 1950 in your paytm wallet then you will get 2016 that means Rs 66 extra and it will be credited within 24 hours in your paytm wallet.
We will let you know more about these kind of offers. The Paytm offer may extend to other user in upcoming days. To know more about this offer just click on the link given on our page above and activate the deal as this offer is valid till 26th January 2016 only. So, all the paytm users avail this offer now before the deal ends.